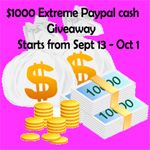 Who would not love to win some Cash?
This is a great blogger event as everybody loves winning cash. To SIGN-UP visit the host of this event- Pregnancy Forum! Signing up is from July 11 to September 11.
Requirement for bloggers:
You will have to publish this giveaway sign up announcement on your blog and put the $1000 Cash Giveaway button on your blog sidebar (grab the button at the host's site) to claim your 2 FREE links or pay $2 without the announcement post and button.

You will publish the giveaway html code on your blog once the giveaway is ready to be live and promote it atleast 3 time daily.